PHS SPIRIT BUTTONS Don't forget to order your button to support your student athlete! You can use this link below to order and all paid orders will be sent home with students or may be picked up in the front office. Order Form:
https://forms.gle/QUBcq3ExqZEjkcFu9
Thank you for your support! -PHS Yearbook Staff
Petersburg ISD would like to welcome Mr. James McInroe to our staff. Mr. McInroe is serving our district as the assistant band director. "I am starting my 3rd year teaching. I previously was the Head Director at Lockney ISD. I was born and raised in Lubbock. I graduated from Eastern New Mexico University BM in Saxophone Performance. I am excited to be a Buffalo and having the opportunity to work with my wife Kadee." ~ Mr. McInroe We are thrilled to have you and appreciate all of the hard work you and Mrs. McInroe have put into our band. We wish you an amazing year!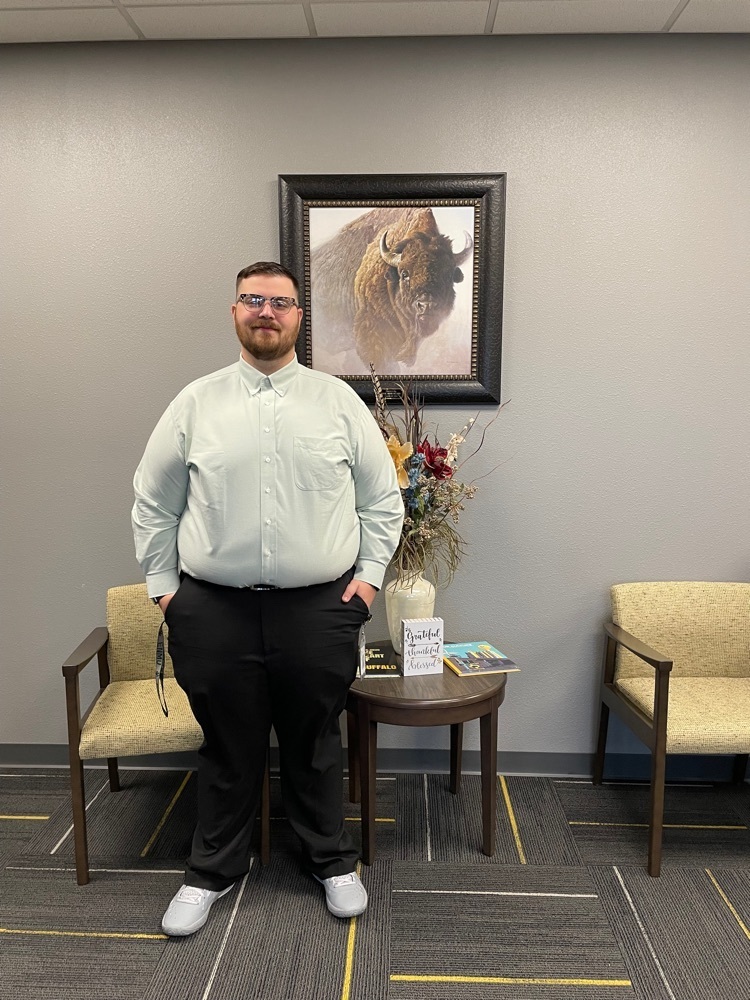 Lady Buffs doing what Lady Buffs do! Shout out to 8th grader, Chloe Montez, for picking up trash at today's cross country meet! "No matter the results, this is what I'm most proud of!! C.Montez helping clean up and do what's right because that's who she is!!! Buffalo pride!!" ~ Coach Velasquez Chloe, way to go! Way to be awesome! We are so proud you are ours!!! 🖤🖤💛💛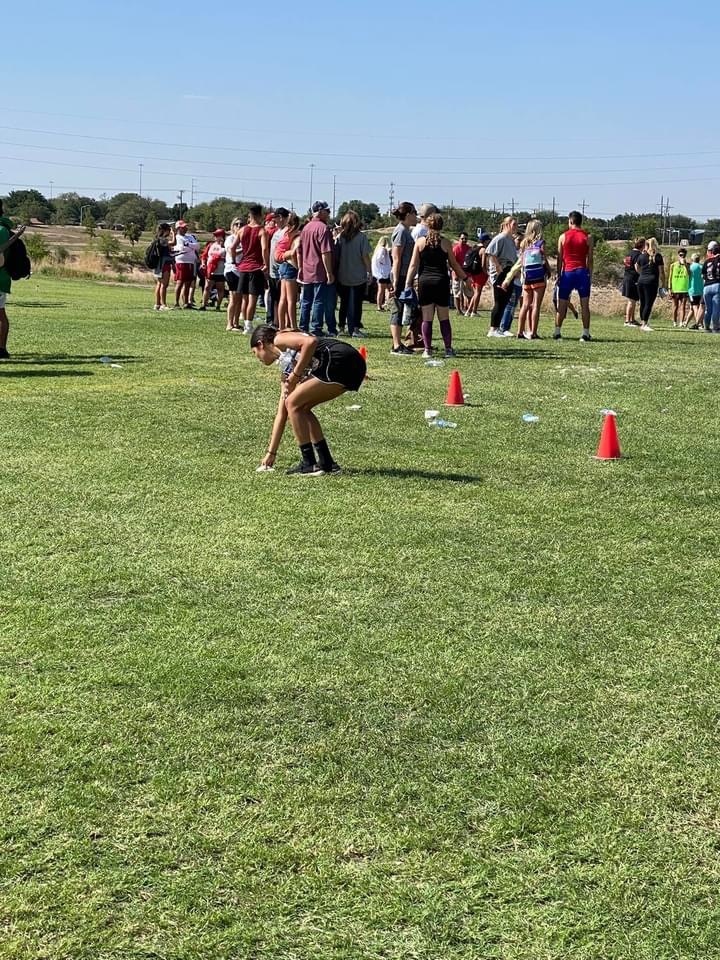 If you are attending today's pep rally, you may enter through the main front entrance. Be sure to check in at the front office. You may park on the north parking lot or on 4th street. Please do not park on the front circle drive. Thank you for your cooperation! This will be the procedure for all pep rallies. Thank you!
There will be a Pep Rally today at 3:15 p.m. in the gym. All students will be released immediately after. This will take place each Friday during football season. Thank you! #GoBuffs
PHS senior, Ebediah Nava, will be serving as an intern at Porter Drug on Tuesdays and Thursdays. Ebediah would like to earn a pharmacy technician certification to utilize as she continues her education to become a veterinarian. Thank you to Porter Drug for making this possible! Way to go, Ebediah! We know you will represent Buffalo Nation very well!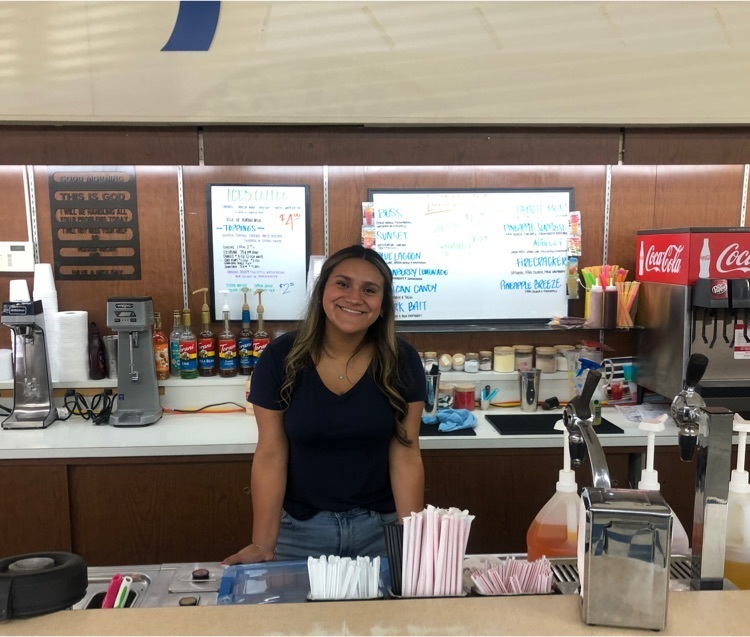 Petersburg ISD would like to welcome Mrs. Michelle Pittman to our school. Mrs. Pittman will be teaching art, graphic design, tech apps, and directing our One Act Play. Here's a little about Mrs. Pittman: Name: Michelle Pittman, teaching art and directing OAP Educational Experience: 17 years teaching in 6th-12th grade teaching Speech and Debate, Theater, Yearbook, Business, and more! A little about yourself: My beautiful family includes my husband, James and children Emma and Nate. We are a sports and fine arts family. I volunteer with Lone Star Ballet, where my children also dance in their professional productions. What would you like Buffalo Nation to know about you? I am so blessed to be a part of this amazing community. I look forward to seeing the creativity in all of our students. We are so glad to have you on our team. We wish you an amazing year!
Thoughtful Thursday Thank you to Mrs. Shayna Lopez for helping several staff members down her hallway make personalized door hangers. Your thoughtfulness is appreciated! Thank you for shining your light in Buffalo Nation! 🖤💛🖤💛
Petersburg ISD would like to welcome Amery Butler to our staff as a teaching assistant. "My Name is Amery Butler I began subbing here last school year and fell in love!!!! I have been married to my husband Jordan for 11 years We have 3 babies that attend Petersburg schools. One is in middle school (holy cow)!!! We have one in 3rd grade and our youngest is in Pre-k4. I grew up off the Caprock and graduated from Jayton High School. Whew, what a busy few days! I am so beyond excited to be a permanent part of Buffalo Nation!!!" ~ Mrs. Butler We are excited to have you on our team. We wish you an amazing year!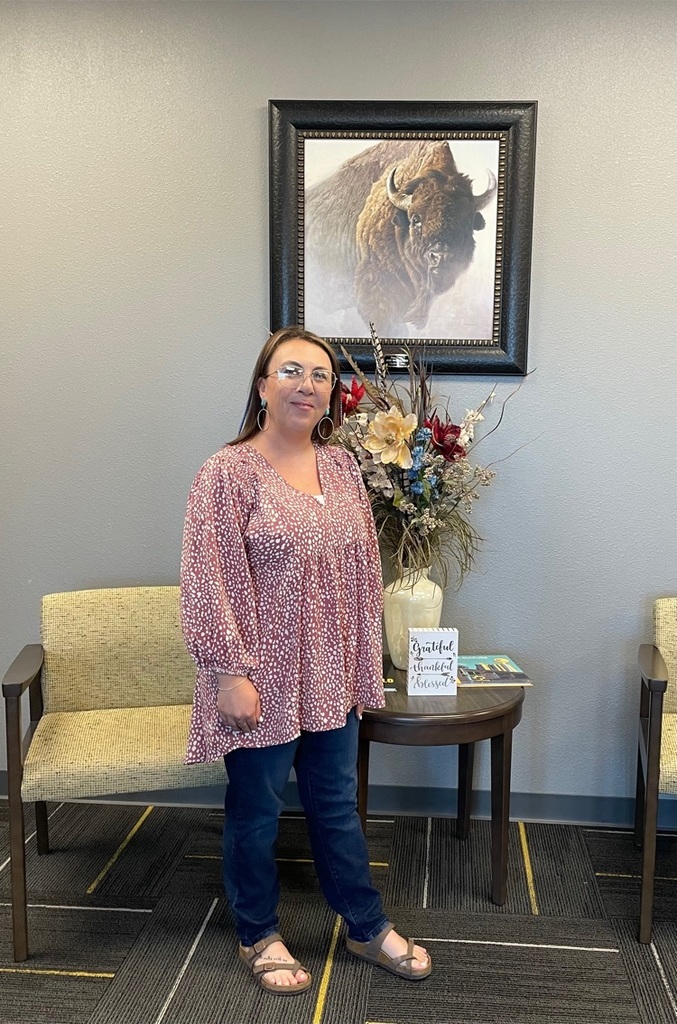 Manners Matter @ Buffalo Nation Freshmen, Noah Hinojosa, was very polite making sure he opened the doors for me as we took his dual credit receipt to central office. I asked if he opens the doors for his mom and he replied, "Always." ~ Corina Reyes, School Counselor Noah, thank you for being a great example of a Petersburg Buffalo! Keep up the good work. Way to set the tone for a great school year! #BuffaloNation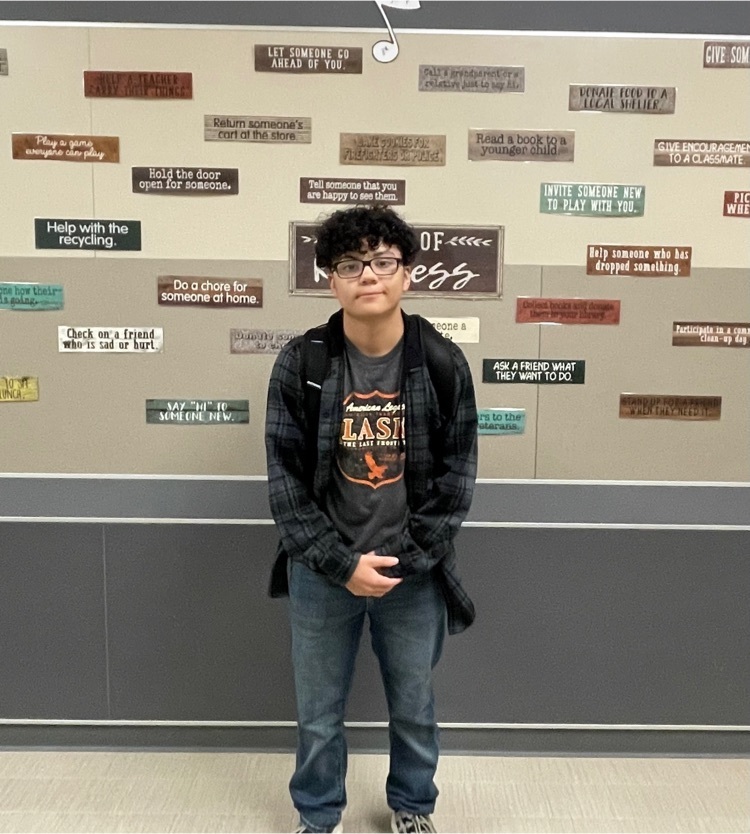 Buffalo Nation would like to welcome Coach Tori Reyes to our team! She will be teaching JH science and health, as well as coach our Lady Buffaloes. "My name is Tori Reyes and this is my first year teaching and coaching. However, I do have experience in both. I was given the opportunity to be a long term sub in my hometown in which I taught family and consumer science as well as P.E. for 6 months. I have coached summer league girls' basketball and volleyball the past few summers. I attended McMurry University where I played college basketball. I then transferred to West Texas A&;M University to finish my academics graduating with General Studies. I am very excited to be teaching and coaching at Petersburg I.S.D. Sports have always been a huge part of my life. I have such a drive and passion for coaching and I can't wait to share that with the students here in Petersburg." ~ Coach Reyes We are excited to have you at Petersburg ISD! We wish you a fantastic school year!
Buffalo Nation would like to welcome Jennifer White. Mrs. White will be teaching our Life Skill classes. "This is my 18th year in education. I have worked with both secondary and elementary grade levels as a special education educator. I have two children who are my pride and joy. My daughter will be joining me here at Petersburg and she is a Senior this year. I cannot wait to meet all of my students and get started on this new adventure!" ~ Mrs. White We are so glad you have joined us at Petersburg ISD. We hope you have an amazing year!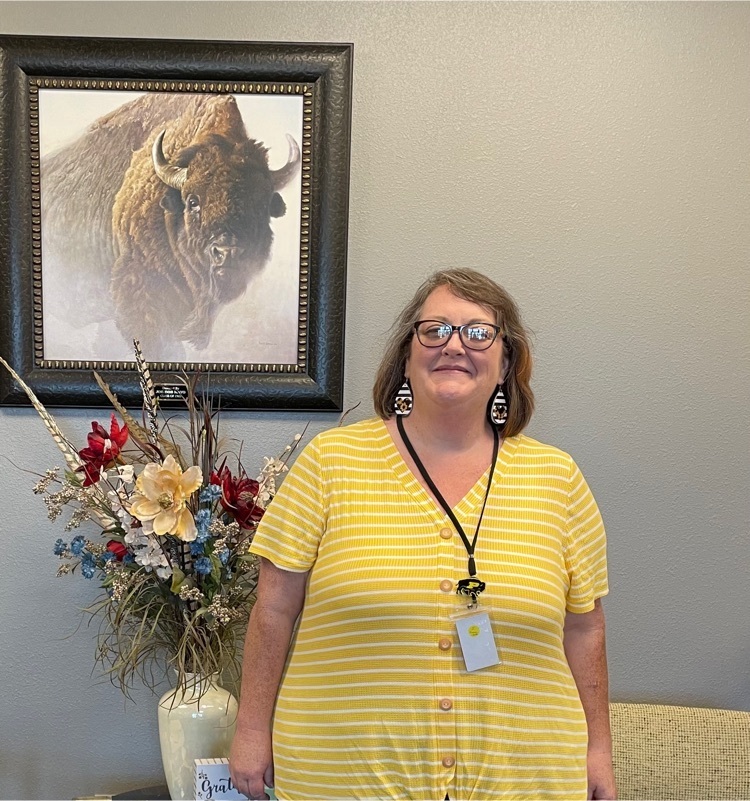 ATTENTION: The football SCRIMMAGE scheduled for tomorrow has been moved to Lockney at 5:00 due to rain. The PARENT MEETING for all athletes will be rescheduled to Monday at 6:00 in the Commons area. MEET THE BUFFALOES (HS football, cheerleaders, and cross country) will now be included in the first pep rally. HS football, cheerleaders, and cross country will have PICTURES on Saturday at 10:00 at the high school. Junior high pictures will be at a later date. #FASTHARDFINISH #WINTHEDAY
"What a great time to be a part of Buffalo Nation!!!  I want to say how proud I am of everyone and their dedication to the students at this school. TEA has released the A-F Accountability Ratings for 2021-2022!! Petersburg ISD is Rated as an A District with a score of 96 out of 100. Petersburg School (PK-12) is Rated as an A Campus with the following distinctions: * Academic Achievement in English Language Arts/Reading * Academic Achievement in Mathematics * Academic Achievement in Social Studies * Top 25% Comparative Academic Growth * Postsecondary Readiness * Top 25% Comparative Closing the Gaps To our staff, words cannot express how proud I am of your dedication and overall grit as we educate the students of Petersburg, Texas.  To students, staff, and parents, at Petersburg ISD we take pride in ALL THAT WE DO, and it has definitely shown through your hard work!!" ~ Mr. Newberry, Superintendent Way to go Buffalo Nation! We are extremely proud of you! Here's to another great year! #GoBuffs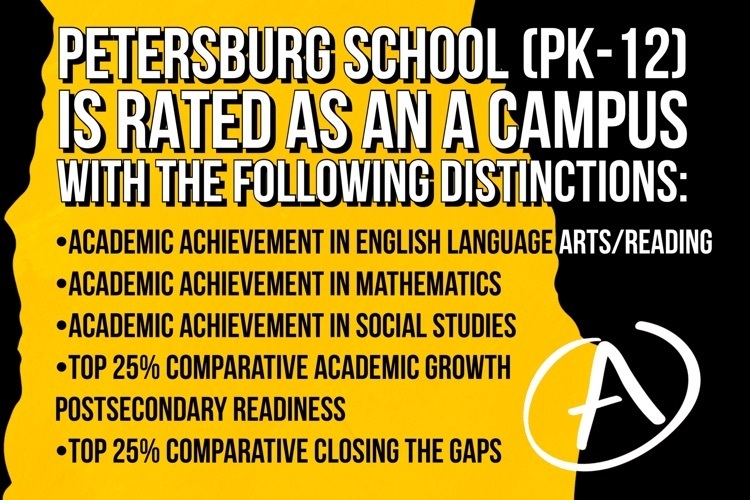 Petersburg ISD is excited to welcome Chandler Claxton to our team. Miss Claxton will be teaching 3rd - 5th Science. "Hello Buffalo Nation!!!! My name is Chandler Claxton. I am from Dallas, Texas. I graduated from Texas Tech University in 2019. (Wreck em'!!!) I met my fiancé, Tanner Bruington, while working at the YWCA of Lubbock! We will be getting married in June of 2023! I have spent the last 3 years teaching at Floydada CISD. This year I will be teaching 3rd-5th grade science here at Petersburg ISD! I am so excited to be here!! Go Buffs!" Welcome to Buffalo Nation! We wish you an amazing year! 🖤💛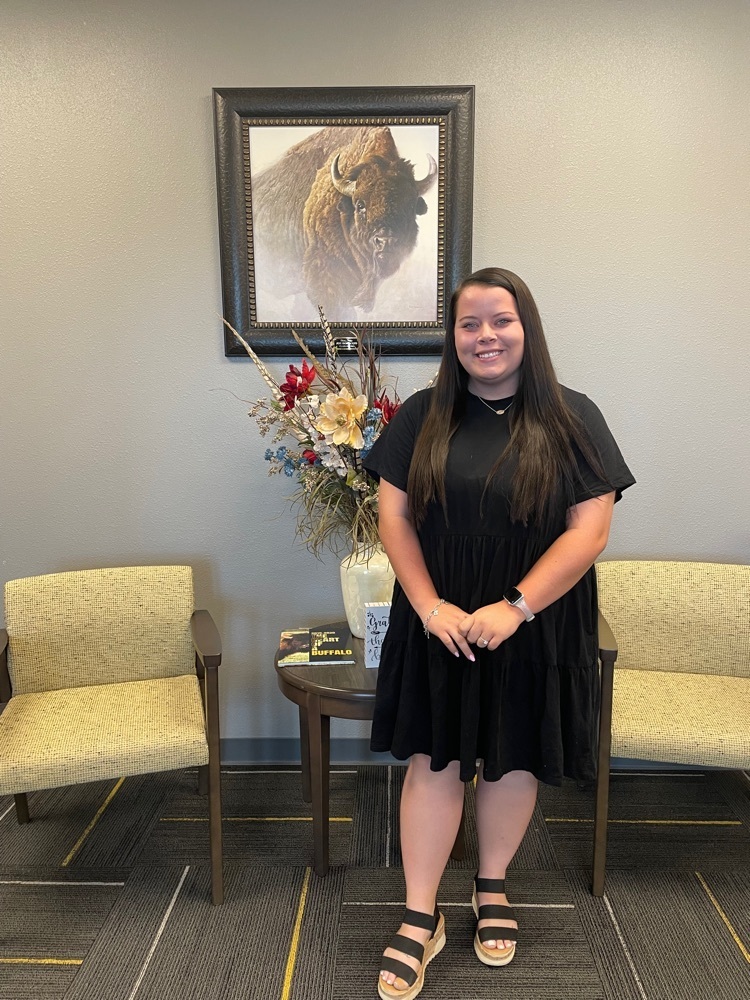 Just a few quick announcements: ~ Our School Day begins at 7:45am for All Students. ~ Drop Off for High School Students ONLY will still be at the North Parking lot and enter through the doors by the concession stand/gym. ~Elementary and Junior High students drop off and pick up will be at the new front driveway on the eastside of the building (Main Entrance). This will be a ONE-WAY driveway! Please do not leave your vehicles as this is only a drop off and pickup location. We hope you are as excited as we are to welcome you to new traditions in our new facilities! #BuffaloNation #GoBuffs
Petersburg ISD would like to welcome Carmen Ramirez to our team. Mrs. Ramirez has been an excellent addition to our custodial staff. Mrs. Ramirez is a longtime Petersburg resident. She is married to Benito Ramirez, and they have three children, Omar, Briana, and Adriana. Thank you for everything you do for our school, Mrs. Ramirez! We are glad you are here! We wish you a great school year!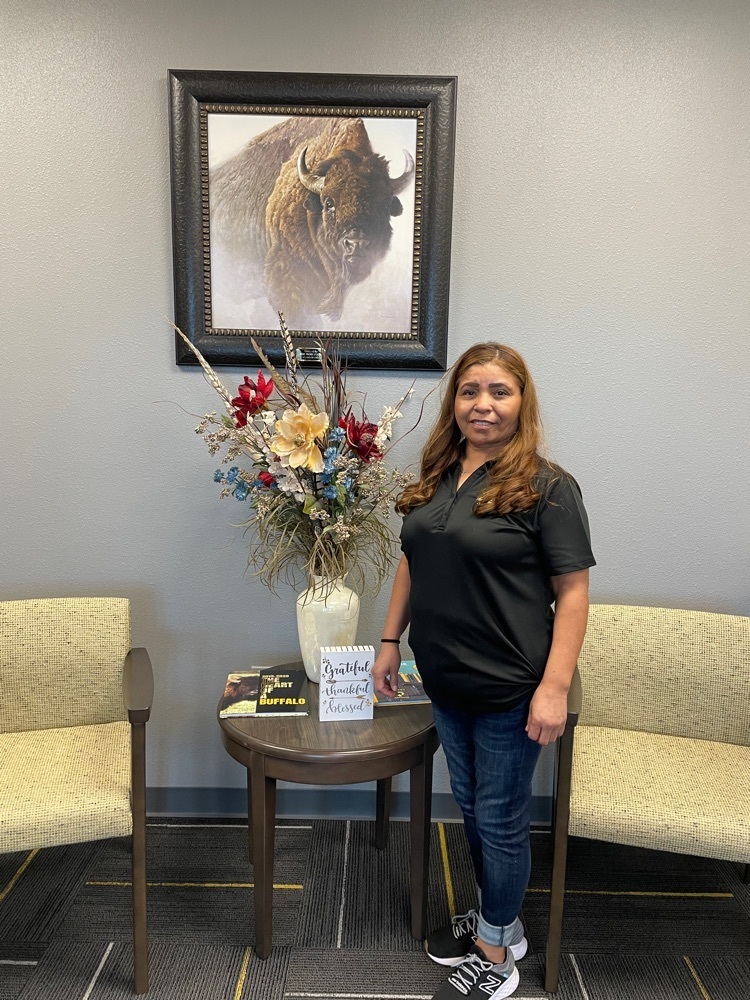 Junior High, Here We Come!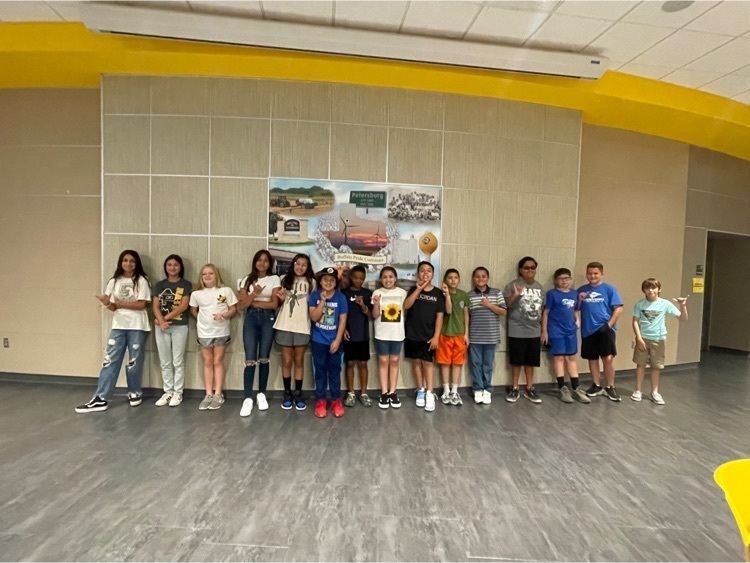 Dual Credit Registration and Payment deadline is Friday, August 19th, 2022. Please pick up a registration form before this date from Mrs. Reyes. Thank you!
Junior/Senior Parent Night Monday, August 29th @ 6:00 p.m. in the Commons We will go over post secondary options, college applications, scholarships, etc. See you then!