🟡⚫️ STAFF SHOUT OUT ⚫️🟡 Mrs. Kadee McInroe embodies the passion of Buffalo Nation. She directs our mighty Buffalo Band. She has taken our band to new heights. She has spent countless hours this summer, before and after school, and any extra time allotted to help build her program. She works with students in grade levels 4th through 12th. On top of that, she has taken our Junior High PE students and is teaching them archery. How cool is that! Our students are soaring under her direction and we cannot be more excited. She is such an excellent part of Petersburg ISD and we are proud to have her. She brings her sweet spirit and positivity each and every day. She puts her whole heart in everything she does. We are blessed to have her. Thank you, Mrs. McInroe, for all that you do to make our school the best! We appreciate you!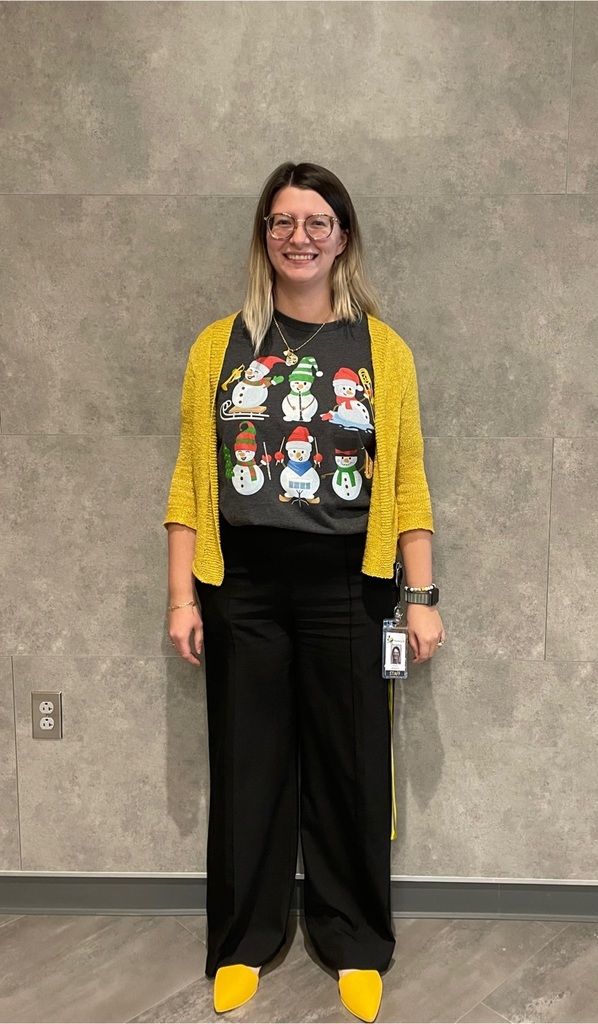 Come out tonight and support our very first Junior High One Act Play cast and crew. They will have a public performance tonight at 6:00 p.m. in the auditorium. Thank you to Mrs. Pittman for her efforts in making this possible. Competition will be this Thursday, December 1st in O'Donnell. Break a leg!
⚫️🟡STAFF SHOUT OUT ⚫️🟡 Heart and Hustle set Buffalo Nation apart and that is the perfect description of Ms. Christy Griggs. Ms. Griggs goes above and beyond with everything she does. She is our PreK 3 Lead Teaching Assistant. She also helps sponsor our JH and HS cheer teams. Ms. Christy puts her whole heart in everything she does. She has taken on the liberty to help celebrate each Petersburg Buffalo and their endeavors. Our high school hallways are filled with her love and dedication as she has created decorations with each student and the activity they participate in. How amazing is this! No one asked her to, but it was in her heart to do. Ms. Christy has served in several positions at Petersburg ISD. Whether she helped with our life skill students or our younger students, she has poured her heart into each and every position. Ms. Griggs, thank you for bringing your love, your talents, and your hustle to work each day! We are so appreciative of everything you do. Congratulations, Ms. Griggs! We are glad you are on our team!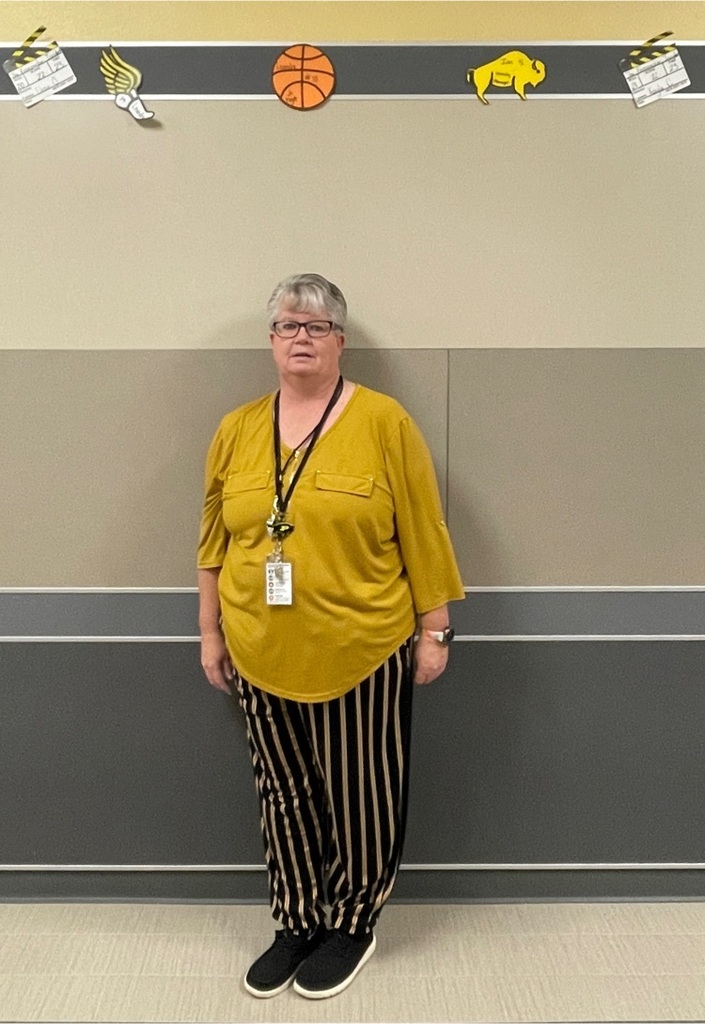 🟡⚫️STAFF SHOUT OUT🟡⚫️ Mrs. Pam Fulton is a rockstar! She teaches math, accounting, and college readiness. She is our UIL coordinator and one of our cheer sponsors. With her leadership, we have approximately two-thirds of our junior high students participating in at least one UIL event. Junior High represented Buffalo Nation very well at O'Donnell this week. Mrs. Fulton also took extra classes this summer to be able to offer Accounting I as a college level Dual Credit class. This means everyone in her accounting class has the opportunity to earn college credit. Thank you, Mrs. Fulton, for all that you do! We are so glad you are on our team!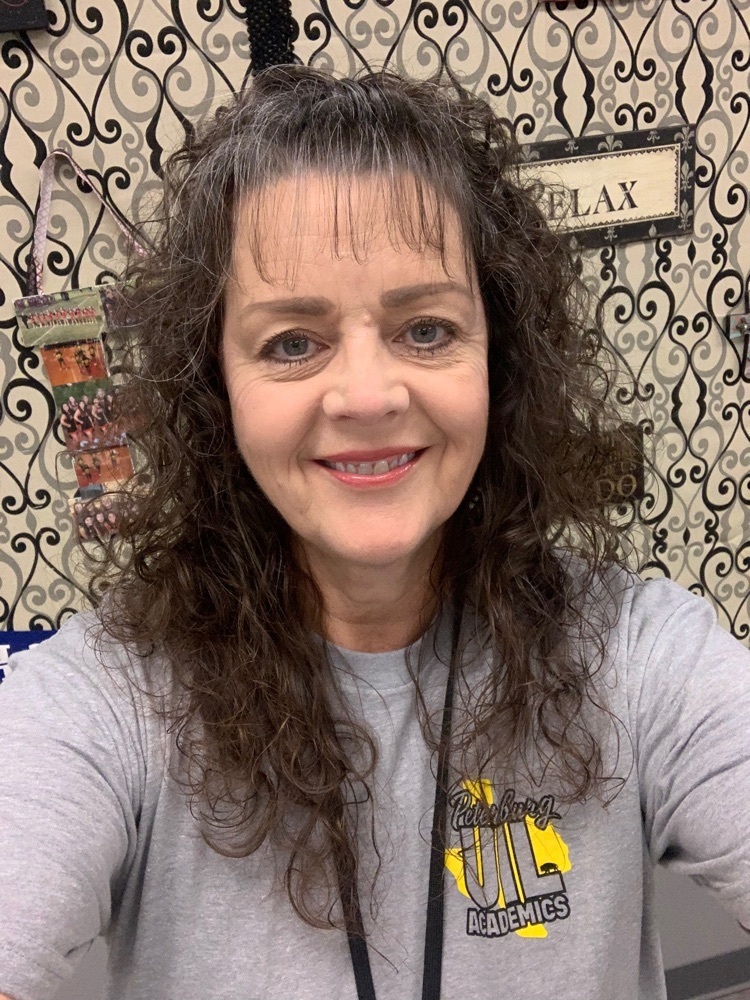 ⚫️🟡STUDENT SHOUT OUT⚫️🟡 Moving to a new school can be hard. We are thankful for Buffaloes that welcome our new students with kindness, class, and empathy. Third Grader, Aiden Pentz would like to give Braelyn Rasco a Student Shout Out. Aiden says that Braelyn is kind and a great friend. He added, "She's always nice to me." Way to go, Braelyn! What an excellent way to shine like a true Buffalo! Your kindness has helped Aiden feel welcomed at Buffalo Nation! Keep shining! We are super proud of you!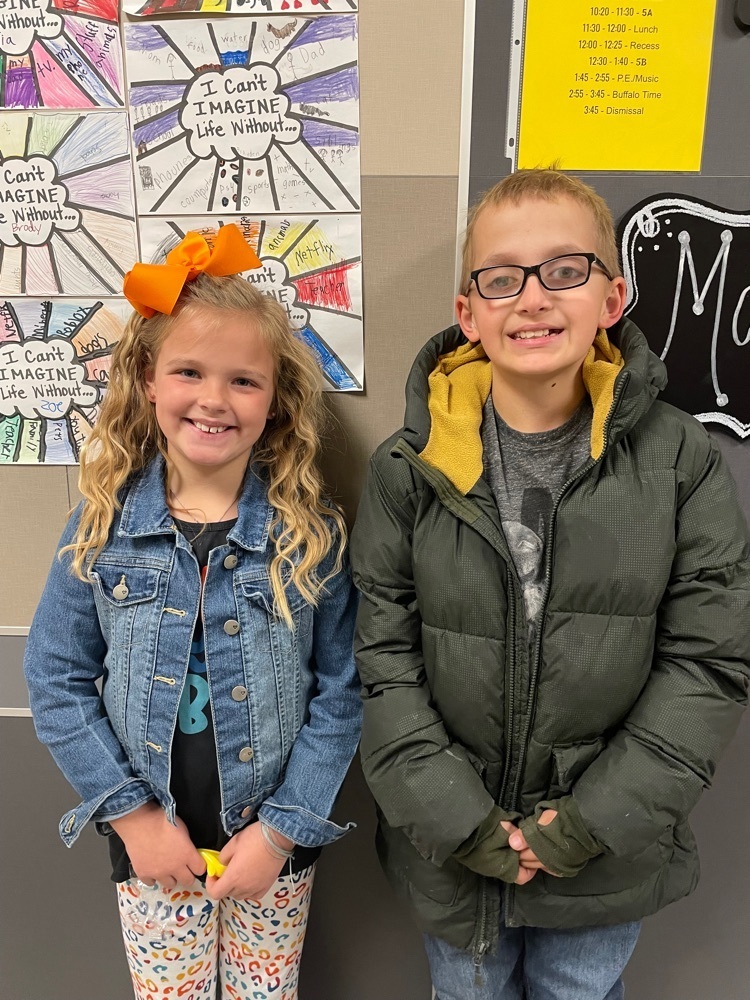 The Thanksgiving Holiday is just around the corner!! PISD wants to send out a reminder to students and parents that Friday, 11-18-2022, we will not have school. On Friday, PISD will have virtual training for the staff. Classes will resume on Tuesday, November 29th. Have a wonderful Thanksgiving Holiday.
🟡⚫️ STAFF SHOUT OUT 🟡⚫️ It's not everyday someone gets FIVE shout outs at one time. Mrs. Carmen Ramirez is so deserving. When we heard Ms. Christy was giving her a shout out, we all wanted to be a part of it because she does such and excellent job for us all. "I would like to send a shout out to Mrs. Carmen Ramirez. Carmen is a hard working lady. She goes above and beyond her call of duty. She is always helping others and anytime you need something from her she does it with a smile. She is alway telling me good morning and asks me how I'm doing. She is a great example of the Buffalo Way to us all. We appreciate her in everything she does." ~ Ms. Griggs "Carmen is alway so cheerful, and helpful in everything she does for our offices!!! She even replaced a 20 year old scrub brush with her own money and wouldn't let us pay her for it." ~ Mrs. Robertson "Carmen is busy as a bee every single day!!!  We appreciate all she does for us." ~ Mrs. Taylor "Everyday she comes in and asks if we need anything done, and the front office is always clean and smelling fresh! Thank you for everything you do!" ~ Miss Roden "Mrs. Carmen Ramirez is one of the best. She works so hard and does everything with love. She is a big blessing to us and our school. She gives her all in everything she does. She is an excellent example of what it means to be a Petersburg Buffalo!" ~ Ms. Reyes Thank you so much, Mrs. Ramirez! We are so thankful for you! Thank you for going above and beyond for Buffalo Nation! 🖤💛🦬
⚫️🟡 Student Shout Out ⚫️🟡 "Sophomore, Taylor Boyd, is such an excellent example of a Petersburg Buffalo! She plays a very active role in our school and participates in cheerleading, FFA, Basketball, and still finds time to volunteer with several activities throughout the school. Taylor shines so brightly! She is kind, respectful, and responsible. Her work ethic and character are of the highest caliber. Taylor is an 'includer'. She makes everyone around her feel seen and valuable. How amazing is that! Taylor, keep shining and keep being you to the fullest! I am so very proud of you!" - Corina Reyes, School Counselor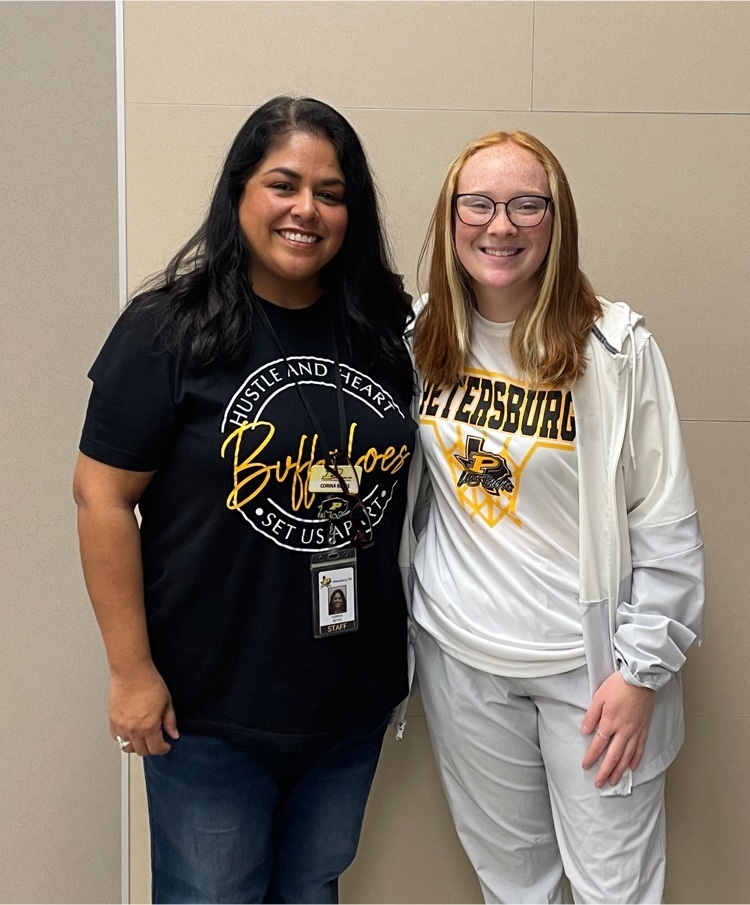 Scholarship offers keep rolling in! A huge CONGRATULATIONS to Ebediah Nava! Ebediah has been awarded the HARDIN-SIMMONS University Dean's Scholarship of $16,000 per year for a total of $64,000. "Due to the academic record you have attained, it gives me great honor to recognize you as a Dean Scholar. You should take pride in your accomplishments and the hard work you have invested to achieve your scholastic record." - Travis Seekins, Vice President for Enrollment Management - HSU Way to go, Ebediah! We are super proud of you! #BuffaloNation #GoBuffsGo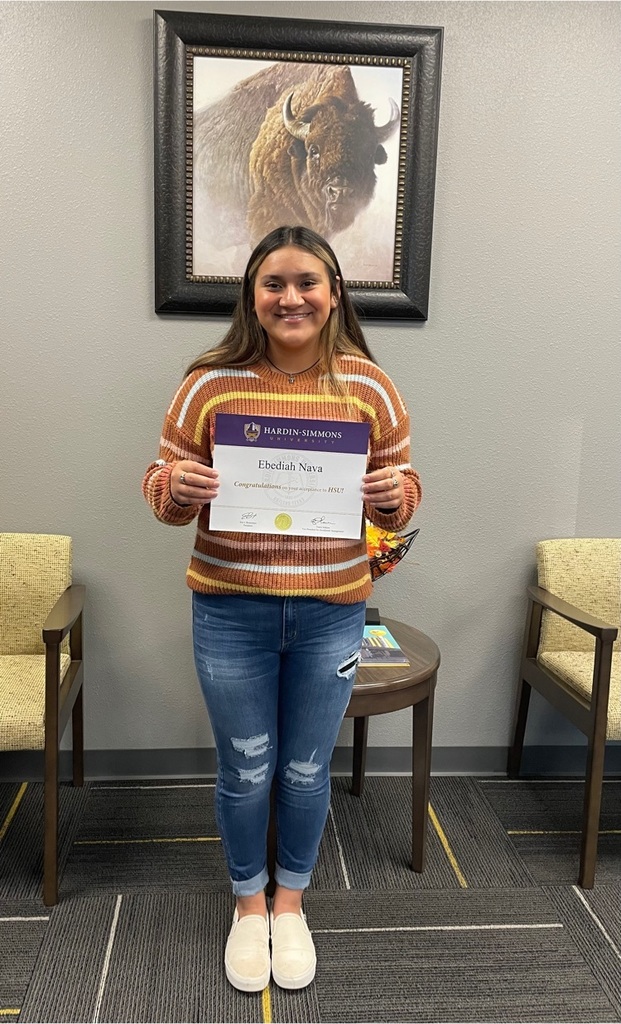 Scholarship Awards are already coming in! 🔥🏆🔥🏆 A huge CONGRATULATIONS to Coda Daniel for being awarded Abilene Christian University's Prestigious Merit Based Scholarship for Academic Excellence valued at $14,000 per year for a total of $56,000 over four years. Way to go, Coda! 🔥🔥🔥 We are super proud of you!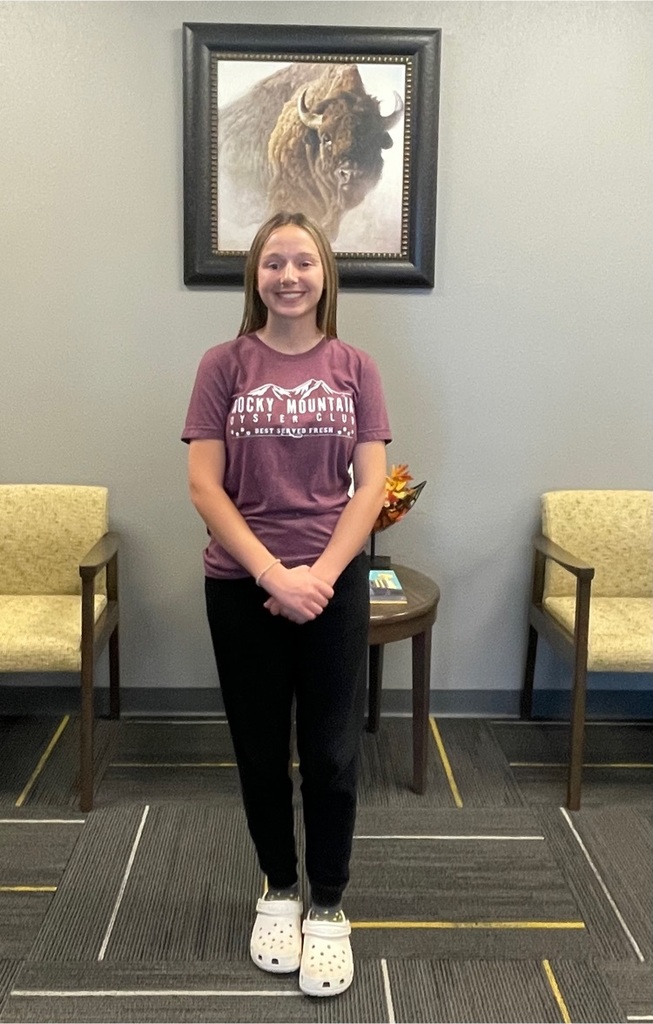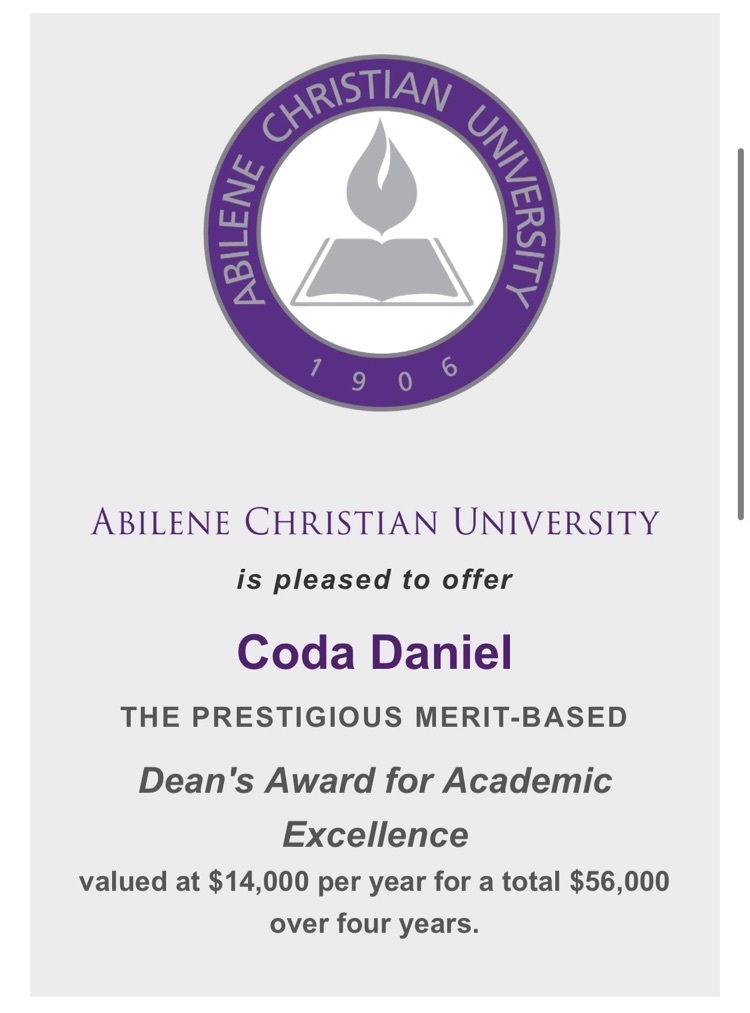 Counselor News - Upcoming Dates & Events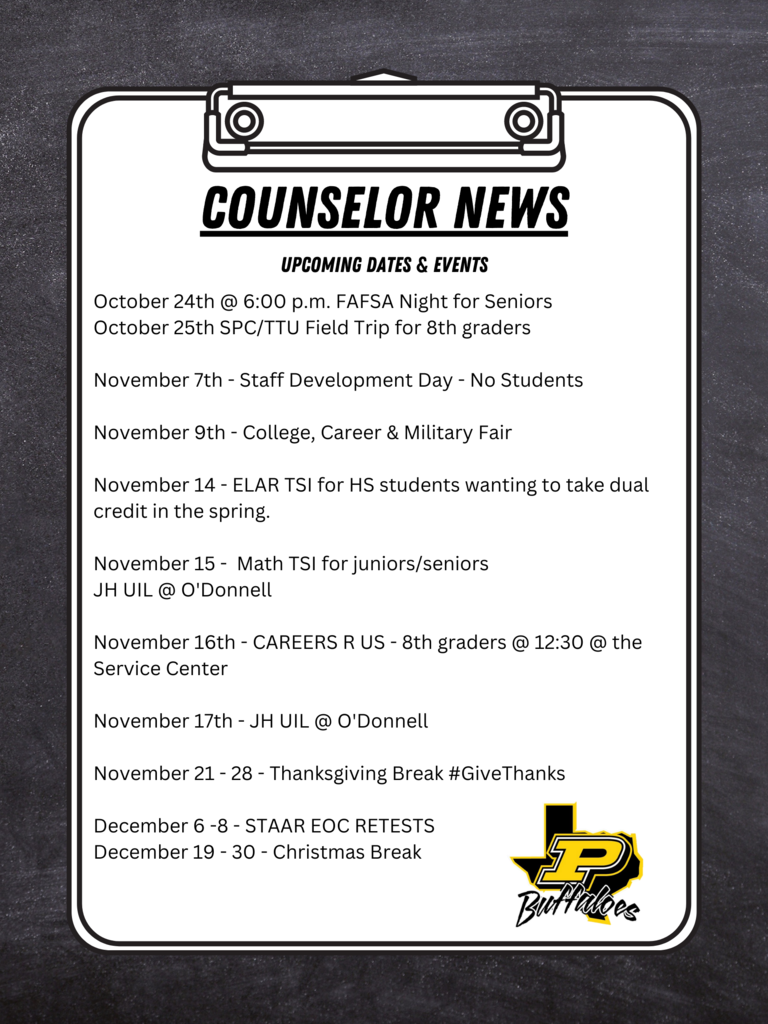 ⚫️🟡 STUDENT SHOUT OUT ⚫️🟡 Sixth grader, Joriah Soto goes above and beyond to help others! "I would like to give a shout out to Joriah Soto.  This morning after breakfast, I'm not sure why he was there, but he stayed behind in the commons and picked up trash under the tables and around the chairs.  No one was around so I'm assuming he was doing it by his own choice. If it was that, I just want to praise him! He is truly a student that has a big heart and really does try to help when he can!" ~ Mrs. Orozco Joriah said, "I just like to help and make it easier for the cafeteria workers." WooHoo, Joriah!! Way to rock the Buffalo Way! We appreciate your kindness and helping hand! We are so proud of you! 💛🖤
Parent Workshop tonight @ 6:00 p.m. When our parents and our school connect, our students WIN!!! ⚫️ CATR presentation on anxiety and depression in adolescents ⚫️ Title 1 presentation ⚫️ School Safety information ⚫️ Free Meal provided by ATMOS Energy ⚫️ Door prizes provided by 2 J's Thriftway and Forever Faithful Custom Gifts by Stephanie Garcia ⚫️ Free Childcare for PreK - 5th grade students by HS student leaders ⚫️ JH leaders will help serve We look forward to seeing you all there.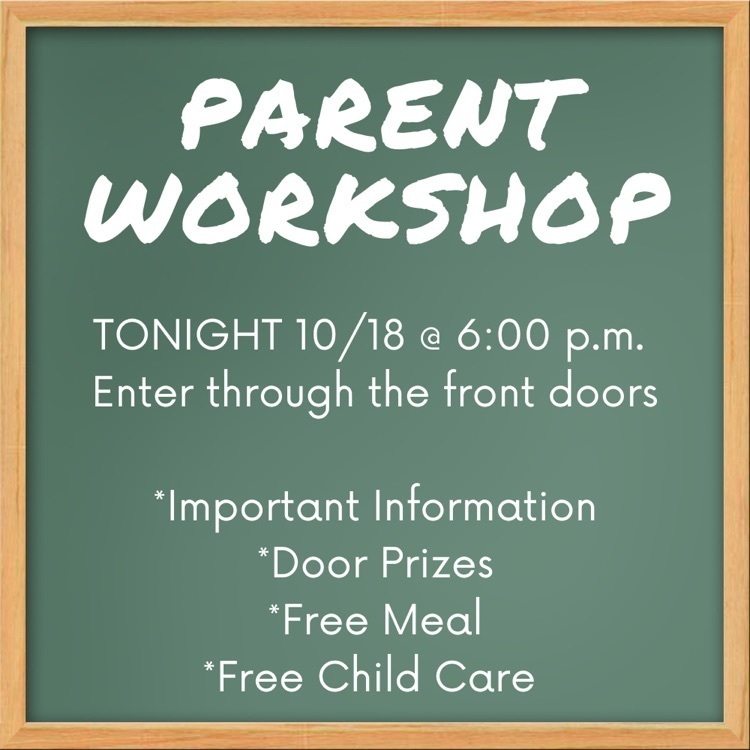 Happy Boss Day to Buffalo Nation's superintendent, Mr. Todd Newberry! Thank you for leading Petersburg ISD with strength, class, and integrity. We appreciate everything you do for our students, staff, and community!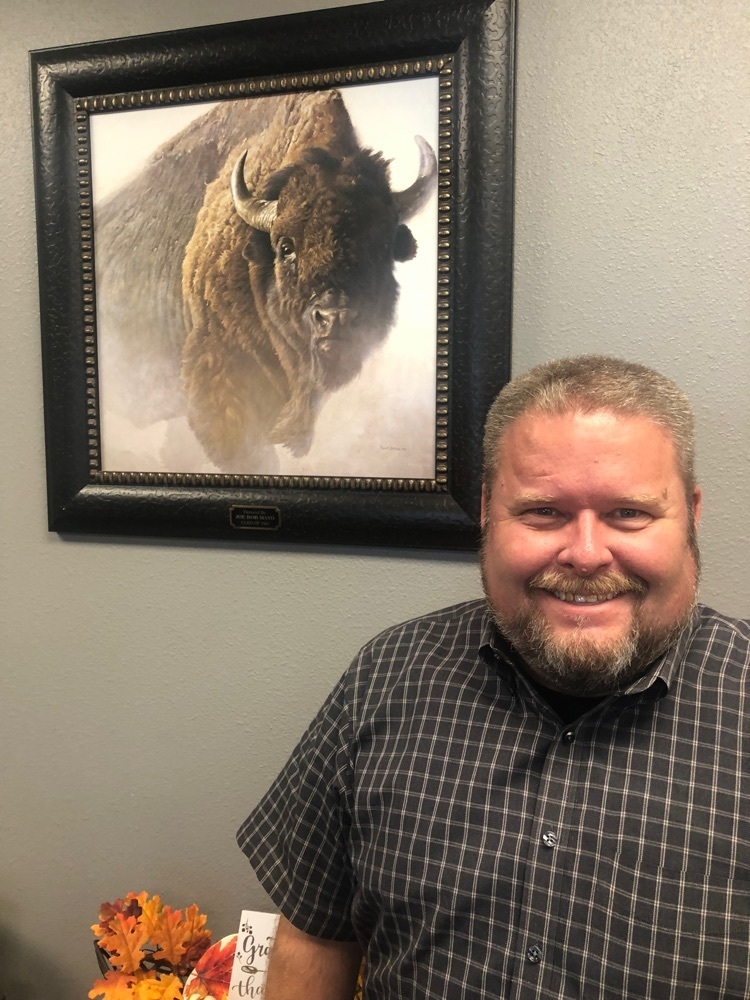 3 days until PICTURE DAY! All PISD students will be taking their fall photos on October 13th. These photos are the ones that will be included in the 2022-2023 PISD yearbook. Seniors will also be taking their composite photos with their tuxedo for males or drapes for females. Order forms have been sent home, but if you're needing another you can email your child's teacher for an extra. You may also use the "Picture Day ID" to order online. Any questions please email Sandra Marquez at
sgmarquez@petersburgisd.net
🦬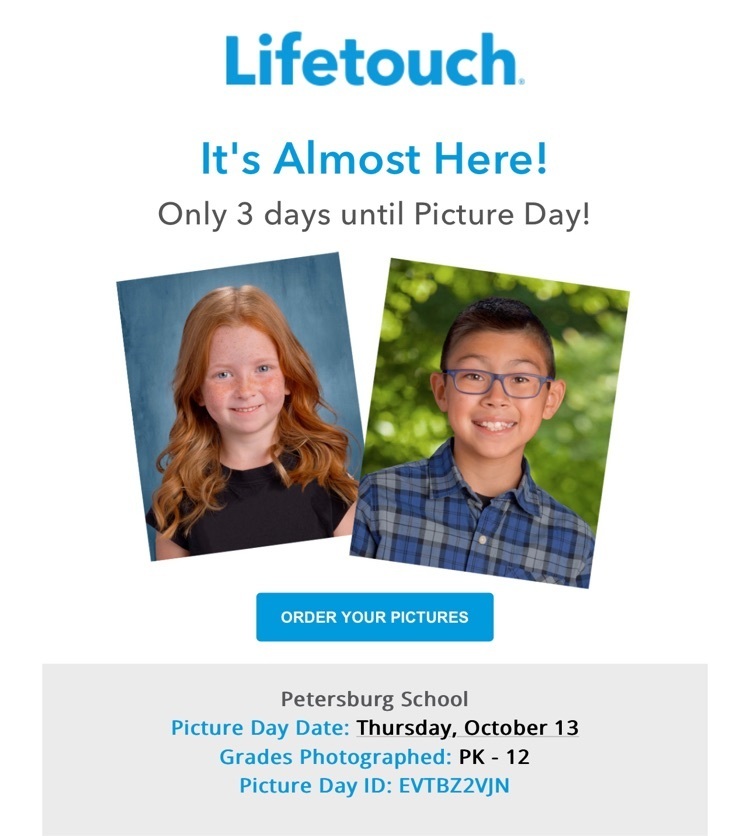 GreatSchools.org recently announced the winners of our fifth-annual College Success Award, which recognizes and celebrates public high schools that excel at preparing students to enroll and succeed in college. We are pleased to share that Petersburg School has been selected as a winner! "Congratulations to Petersburg School for being one of only 1,742 public high schools in the nation to win this year's Award! Your selection was based on college preparation and postsecondary data shared by your state. Petersburg School is far above the state average in key measures of college and career readiness. This school has earned a 2022 College Success Award based on its success in preparing students for college. Petersburg School has an average of 84% of graduates pursuing in-state college or vocational programs. The state average is 52%." - GreatSchools.org We also have a 100% graduation rate and less of our students have to take college remedial classes compared to the state average of 57%. We are at 23%. Congratulations to our amazing staff on this award! There's no place like Petersburg ISD!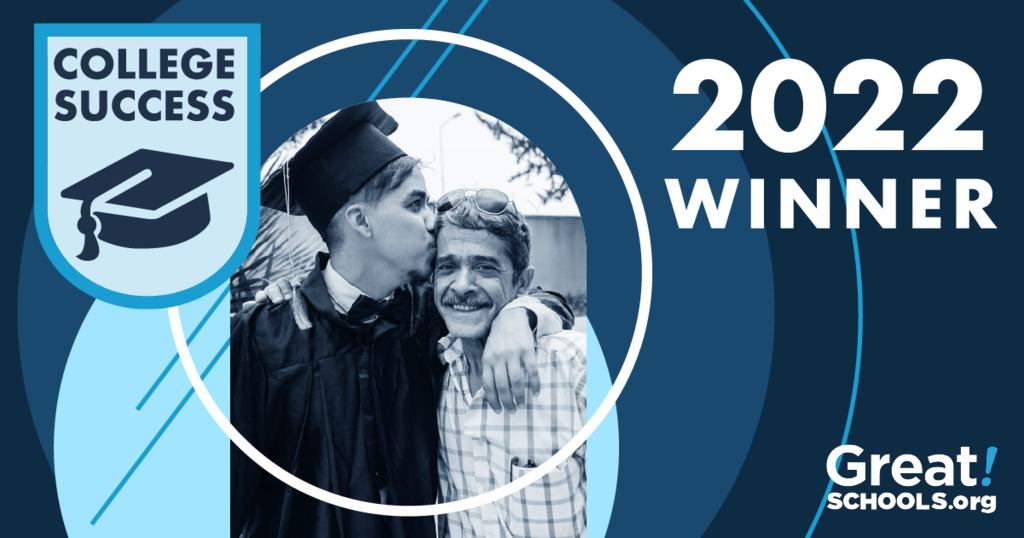 Petersburg ISD would like to invite all of our PreK - 12th grade parents to our annual Parent Workshop! We cant wait to see you there! Tuesday, October 18, 2022 @ 6:00 p.m.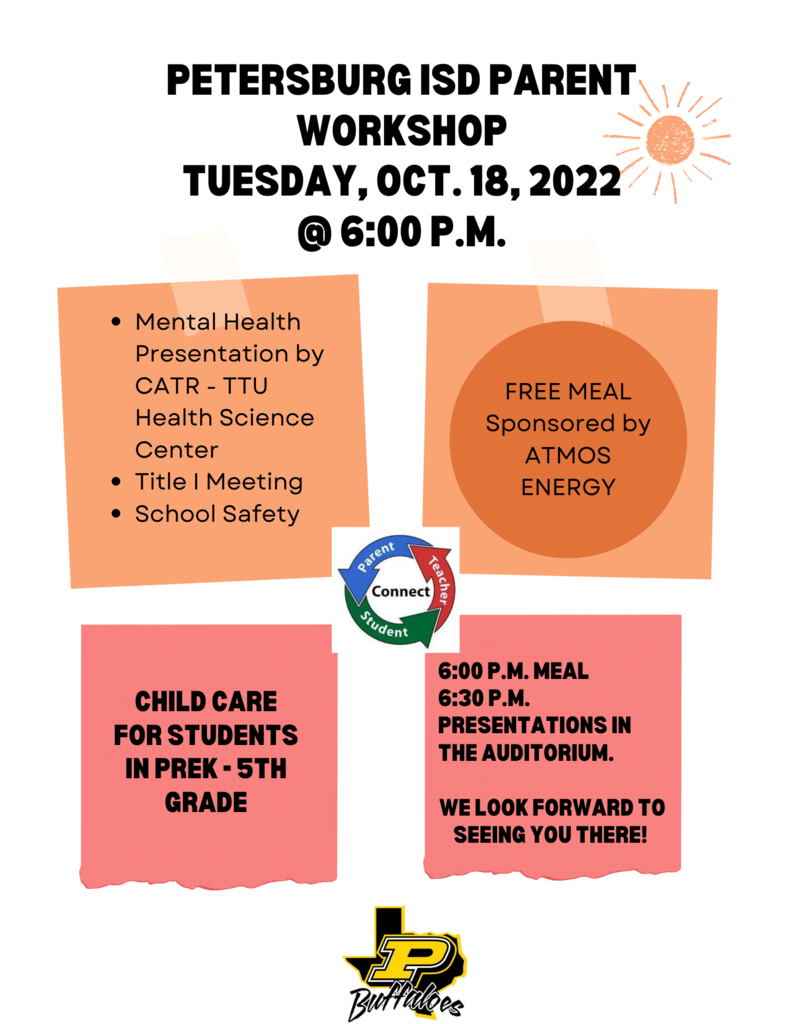 Buffalo Nation!!! We would like to Thank You for your continued prayers for the Thurman Family. Visitation and Services for Chief Thurman are as follows: Visitation will be on Tuesday (09-27) from 6-8pm at Lakeridge Memorial Chapel in Lubbock. Funeral Service will be Wednesday (09-28) at First Baptist Church in Petersburg at 2pm. Internment will be at Peaceful Gardens in Lubbock following the service. PISD will be Dismissing School (Staff and Students) at 12:45pm on Wednesday, September 28th so that those who wish to attend the funeral may do so. Thank You.
Happy IT Professionals Day to our Technology Director, Mrs. Minerva Orozco! To say we have the best of the best is a complete understatement. We are so thankful for all that she does for our staff, students, and community. Mrs. Orozco, thank you for going above and beyond for Buffalo Nation! You are definitely a rock on our team and we appreciate you so much! 💛🖤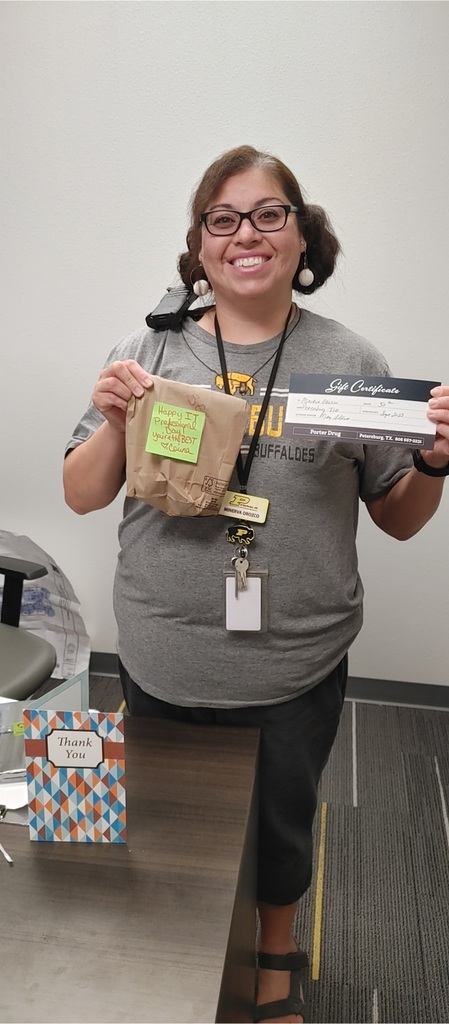 Petersburg Day 2022 Updated Information!! We hope to see everyone there!